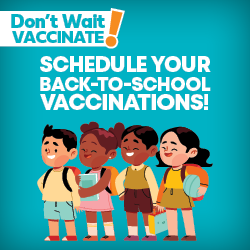 Please email a copy of your child's immunization record to Mrs. Gorney at dgorney@sta-sd.org
California state law requires all 7th grade students to have the following immunizations documented in their school student file:
Whooping Cough (Tdap) booster vaccine (received on/after 7th birthday)

2 doses of MMR vaccine (doses must have been received on/after 1st birthday)

2 doses of the Varicella (chickenpox) vaccine
Since your child will be advancing to 7th grade in the fall, these requirements pertain to you. Most children will have already received these immunizations during their annual visits with their pediatrician in grades 3-5.
Please know that your child legally cannot attend the first day of school if proof of these immunizations has not been received by STA. Please help us…send in your immunization record today. If you are notified of missing immunizations, please schedule an appointment as soon as possible. Your neighborhood Walgreens, Rite Aid or CVS can administer immunizations. Thank you for your help!
Blessings,
Mrs. Gorney
619-583-6270